In some of the areas we've helped plant in the past years, residents are challenged by the eucalyptus plantations (for paper pulp) that work with agrochemical companies, and their green gloved NGO partners who approve of planting genetically engineered trees, sprayed with toxic herbicides.

Once abundant water sources were sucked dry by thirsty, fast-growing, eucalyptus trees, contributing to epic droughts, while pollinators die, and remaining water supplies are contaminated by glyphosate, now recognized as a carcinogen by the World Health Organization.
In contrast, when we give rural families a gift of organically grown, native species trees, they renew the life of the rainforest to benefit us all.



 Together, we are renewing the planet's precious natural resources for our kids.
Since our beginning, the project has attracted a global community of supporters: Michael Bernard Beckwith (featured in "The Secret" and founder of Agape International Spiritual Center), Rickie Byars Beckwith (founder of the Agape International Choir), Carolyn MacDougall (Teecino founder), DC Cordova (CEO of Money and You), Deborah Koff-Chapin (founder of the Touch Drawing Center), Katherine Woodward Thomas (author of "Calling in The One" and "Conscious Uncoupling"), Marie Diamond (featured in "The Secret"), Martin Dunkerton (author of "Awakening Your Riches"), Ryan Eliason (creator of the Social Entrepreneur Empowerment series), George Kao (creator of the Enlightened Business Bootcamp), Steve Bhaerman (a.k.a. Swami Beyondananda, co-author of "Spontaneous Evolution: Our Positive Future"), Vicki Robin (author of "Your Money or Your Life"), Natalie Ledwell (co-creator of Mind Movies), Sylvie Rokab (director of "Love Thy Nature"), Daniel Nahmod (Humanity Music Co.) and Nimo (Empty Hands Music) are among them.
NOW we invite YOU to join us…

Our reforestation project supports global cooling, the return of wildlife and Nature's biodiversity. And our hundreds of species of tropical trees have a better chance of growing to maturity, faster, able to sink more carbon than trees planted in the backyards of the Northern Hemisphere OR Genetically Modified trees.

Your non-tax-deductible "crowdfunding" donations make the purchase and distribution of these trees possible, at no cost to the recipients, through social enterprise and non-profit partnerships. We work directly with small, local NGO partners in the community who are focused on teaching organic agroforestry in targeted areas of need.

Just imagine if everyone who reads this would contribute – we could replace hundreds of acres of rainforest without the use of toxic chemicals or the financial help of the companies who make them. Earth renewal powered by the people!
We can build nurseries in areas that could supply trees to people and projects who WANT to reforest their land, and just need support to start the process.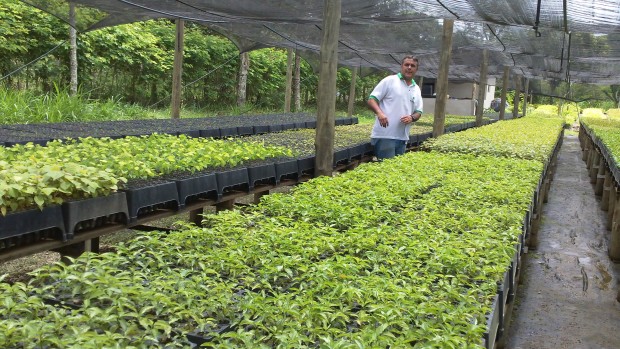 Our new goal is to replant 1,500 acres of rainforest with 1,000,000 native species trees, from the nurseries we'll be able to build as a result of this campaign. The people who receive the trees will plant and care for them, for the benefit of all.
As Swami Beyondananda says "The trees are rooting for us!